Printed Finnix CDs are back!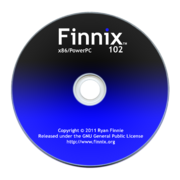 With the release of Finnix 102, I have once again begun printing high-quality, glossy CDs. These are not your typical inkjet CD-Rs you find at the local computer store. They are Taiyo Yuden WaterShield CDs, have a high-gloss finish, are highly resistant to smudging, and are more durable than a typical CD-R. And they look beautiful.
And as an exclusive, these CDs are hybrid bootable x86/PowerPC CDs. Simply insert it in any x86 or PowerPC computer and boot. This version is not available for download, so the only way to receive one of these hybrid CDs is by donation.
You can get a printed Finnix CD with any donation of $20 or more. You will also receive some stickers with your donation. And if you are not interested in CDs and/or stickers, but still want to help out, there are other ways you can help support Finnix.